Battle Arena Toshinden

Box art

Director
Masami Ōbari
Producers
Yoshiki Murase

Yasufumi Yoritsune

Written by
Masaharu Omiya (1)

Haruo Takayama (2)

Music
Kensuke Shiina
Studio
Animate Film

J.C.Staff (Cooperation)

Released
June 21, 1996

August 21, 1996

Runtime
27 minutes
Episodes
2
Battle Arena Toshinden (闘神伝) is a two episode original video animation, first released on June 21, 1996. The events are mainly based on Battle Arena Toshinden 2. It is directed by Masami Ōbari.
The ending theme "Makenaide! Fly Away!" ("Cheer up! Fly away!"), is performed by Kyōko Hikami, the Japanese voice of Ellis.
For one year, Master Swordsman
Eiji Shinjo
has been haunted by the memory of his battle with the renegade champion,
Gaia
- a battle that was cut short by the forces of the malevolent syndicate known as "the organization."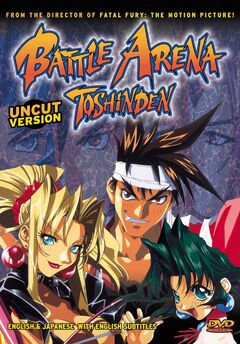 Denied victory, Eiji left the tournament followed by his opponents mocking laughter. Worse still, Eiji walked away no closer to finding his long lost brother, Sho . But now, a mysterious warrior is hunting down the champions of the previous tournament and using their own moves against them - and it looks like that person may be Sho. Who is this powerful new foe and who is his next target? 
Eiji and Kayin , his closest friend and greatest rival, struggle to unravel the mystery before they, too, join the ranks of the defeated. The answer lies at the heart of the Organization and its plans for world domination. At last, the ultimate battle between the greatest fighters in the world will be decided. But if Eiji loses, his friends - Ellis - may Die... 
Cast and Characters
Edit
| Character | Japansese voice actor | English voice actor |
| --- | --- | --- |
| Eiji Shinjo | Tomokazu Seki | Ed Paul |
| Kayin Amoh | Takehito Koyasu | Chris Orbach |
| Sho Shinjo | Bin Shimada | Chris Yates |
| Uranus | Kikuko Inoue | Emma Rayda |
| Gaia | Daisuke Gōri | Alfred DeButler |
| Chaos | Fumihiko Tachiki | Chris Yates |
| Ellis | Kyōko Hikami | Lisa Ortiz |
| Sofia | Yumi Tōma | Debora Rabbai |
| Tracy | Michiko Neya | Apollo Smile |
| Fo Fai | Ikuo Nishikawa | Jimmy Zoppi |
| Rungo Iron | Shinpachi Tsuji | Greg Wolfe |
| Mondo | Yukimasa Kishino | Kim Carrell |
| Duke | Kaneto Shiozawa | Bill Timoney |
| Vermilion | - | - |
Originally released in the U.S. in two versions: an edited PG-13 version and an uncut version (currently available on DVD).
It was the first anime DVD released by Central Park Media in the Western market (and possibly the first Western market anime DVD period).
Community content is available under
CC-BY-SA
unless otherwise noted.