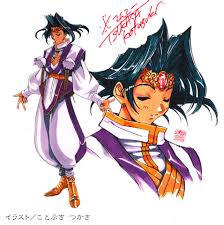 Name: Master
Weapon: Psychic Broadswords
Nationality: Unknown
Sex: Female (though stated to be male in the English version)
Height: Unknown
Weight: Unknown
Age: Unknown
Blood Type: Unknown
Occupation: Leader of the Himitsu Kessha
Family: Unknown
Appears in:
Battle Arena Toshinden 2
Master is a character in the second installment of the Battle Arena Toshinden video game series. She made her first and only appearance in Battle Arena Toshinden 2, as both the unlockable final boss and main antagonist of the game. The Japanese (canon) version of the game identifies her as being female while the English version portrays her as being a male character.
The Master is the highly psychic leader of a criminal organization known as the Himitsu Kessha. She had many bodyguards, the most notable ones being Chaos, Cupido, Gaia and Uranus. When Gaia had illegally held the first Toshindaibukai in order to gather other fighters to start a rebellion against the increased corruption of the organization, Uranus had marked him for death. When the Master was informed of this, a second Toshinden tournament was held in order to draw Gaia out into the open and into their trap. However, both the Master and Uranus were slain themselves at the end of the tournament by Sho Shinjo.
Voice Actors
Edit
Mariko Onodera (Japanese)
Due to her high psychic abilities, Master can summon and throw broadswords using telekinesis.
The Master is the first character in the Toshinden series to only use her weapons during special moves.
Community content is available under
CC-BY-SA
unless otherwise noted.