This article or section is a stub.
You can help the Toshinden Wiki by expanding it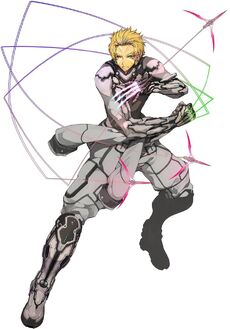 Name: Moritz Ullrich
Weapon: The Silence of Silver, a suit utilizing retractable flying claws and a stealth unit
Nationality: No Data
Sex: Male
Height: 180cmcm
Weight: No Data
Age: No Data
Blood Type: No Data
Occupation: No Data
Family:
No Data
Appears in:
Moritz Ullrich is a character from Toshinden (Wii).
He can be unlock once complete the Story Mode on any difficulty.
Moritz is actually one of Dan's fellow agents, but is in fact a double agent, working as a spy for the business organization Balancer, attempting to regulate the supply of weapons to the world to increase their revenue.
Community content is available under
CC-BY-SA
unless otherwise noted.